Emma Watson says topless shoot was 'about liberation'.
Emma Watson has hit back at critics who claimed her decision to pose topless was hypocritical given her feminist stance.
The Harry Potter actress triggered a backlash when she was photographed for Vanity Fair magazine wearing a jacket with nothing underneath.
Some commentators said Emma, 26, had gone against what she stood for and accused her of being anti-feminist.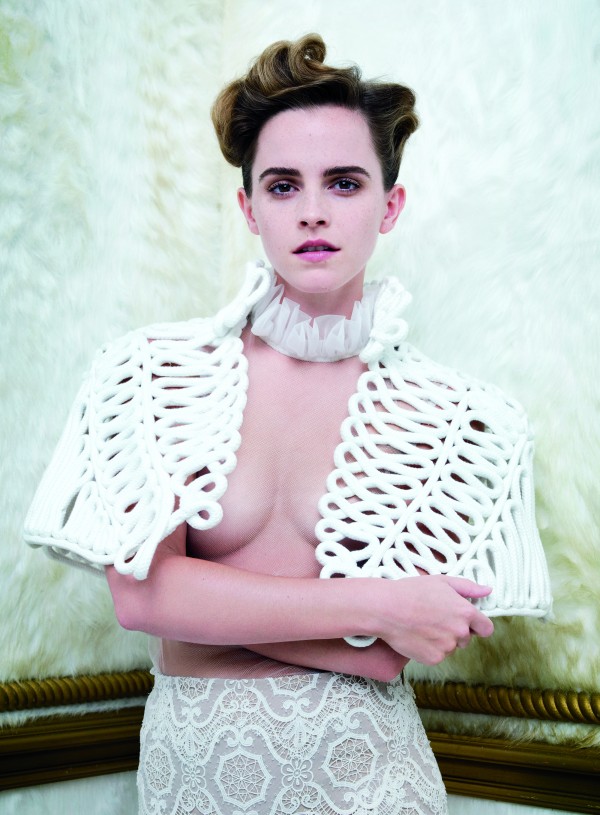 Emma Watson (Tim Walker/Vanity Fair)
But she told the BBC: "Feminism is about giving women choice, feminism is not a stick with which to beat other women.
"It's about freedom, it's about liberation, it's about equality."
Emma went on: "I really don't know what my tits have to do with it."
The actress was being interviewed alongside Dan Stevens, her co-star in Beauty And The Beast.
Watch Emma discuss the movie in our Movie News bulletin!
When he asked what she was discussing, the actress explained: "They were saying that I couldn't be a feminist and… and have boobs."
March cover star @EmmaWatson opens up about her metamorphosis from child star to leading woman https://t.co/aS7acDVsm2 pic.twitter.com/kz0H7ZnLkg

— VANITY FAIR (@VanityFair) February 28, 2017
She said she always found herself "quietly stunned" at such comments.
Emma was photographed for Vanity Fair by British fashion photographer Tim Walker.
The actress was wearing a chunky open-weave bolero jacket with nothing underneath, but the high-fashion picture was cleverly crafted to protect her modesty.
Many fans applauded the shot, but others suggested it undermined her feminist credentials.
Broadcaster Julia Hartley-Brewer was among those to comment, tweeting: "Emma Watson: 'Feminism, feminism… gender wage gap… why oh why am I not taken seriously… feminism… oh, and here are my tits!'"