Emma Thompson: I want to hold on to being a rock and roll chick
Emma Thompson has admitted she still has dreams of being a "rock and roll chick" and wants to hold on to those ambitions.
The British actress, who will next be seen starring opposite Dustin Hoffman, Adam Sandler and Ben Stiller in Noah Baumbach's Netflix film The Meyerowitz Stories (New And Selected), said she still has ideas about herself that she has not let go of.
Arriving at the premiere of the movie at the BFI London Film Festival, in which her character says 'We all have an idea of ourselves and we want to hold on to that', she told the Press Association: "I want to hold on to being a funky, slightly out there rock and roll chick, not that I ever was that, I just want to hold on to it."
She continued: "It is very honest of her and I suppose she's sobered up, that is the thing, because she was and is an alcoholic, she is a person who has got serious issues, but Noah's writing is so good, because it sounds as though everyone is making it up as they go along because it's so particular and it's not.
"Everyone had to learn it absolutely religiously and that is what makes him such a specific and clever auteur.
She added: "I can relate to drinking too much and having difficulty negotiating different parts of your house, I can relate to that.
"I loved playing someone who just constantly made really dreadful food for everyone but really pushed the boat out and tried terrible obscure fowl and left the beaks on."
In the film she plays the alcoholic third wife of Hoffman's patriarch, while Stiller and Sandler play his sons, and she said: "I did enjoy her very much because she was a foreigner. You know I felt very foreign, I am very foreign in America, which is the way I like it, so I was playing an outsider.
"I was very honoured to be part of what is, after all, a very American piece. I don't make films in America very much, although through choice, but I really couldn't resist this one."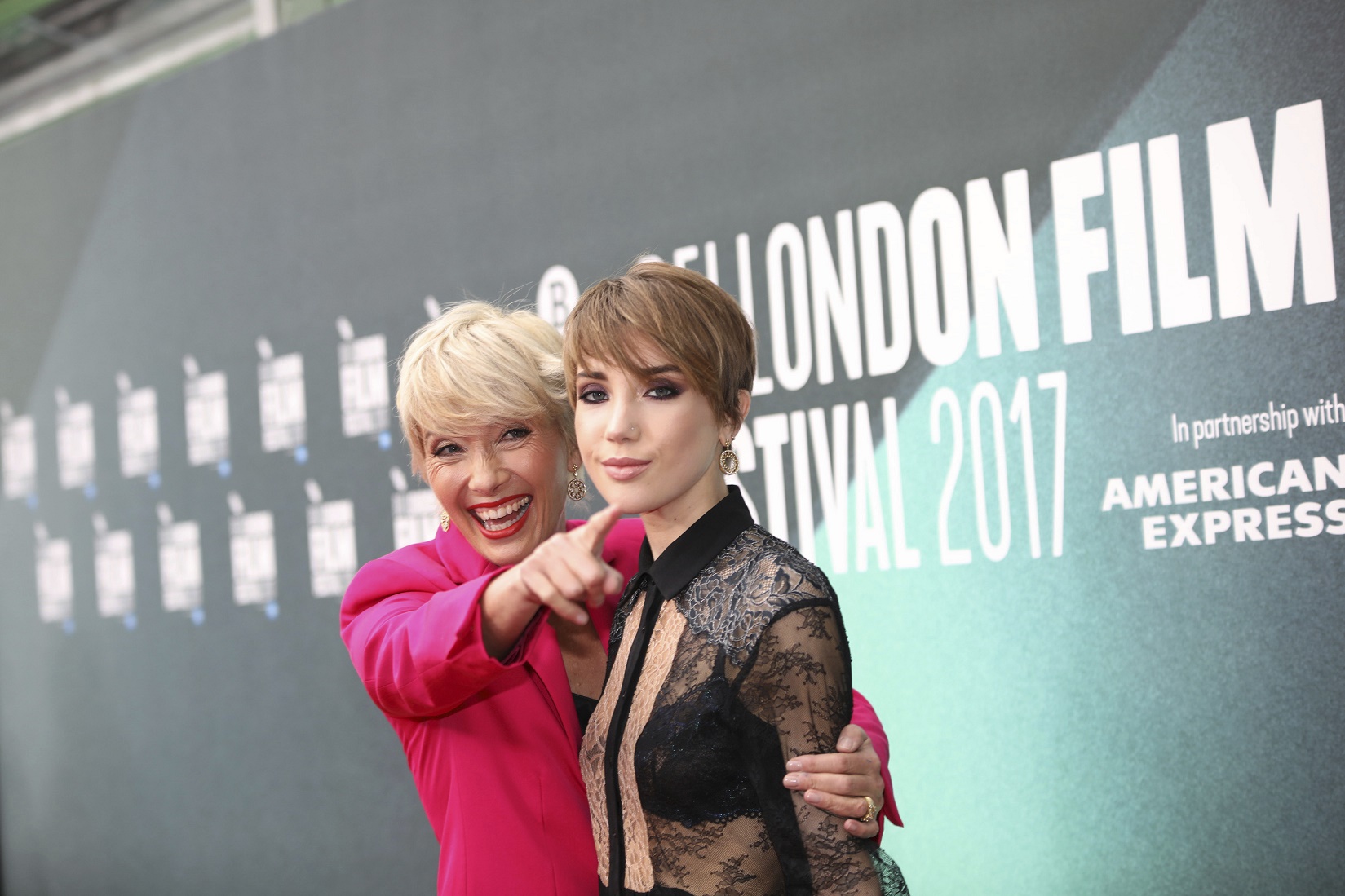 Actress Emma Thompson, left, poses with her daughter Gaia Romilly Wise, for photographers upon arrival at the premiere of the film The Meyerowitz Stories during the London Film Festival (Vianney Le Caer/AP/PA)
The movie marks her third time starring alongside Hoffman, and she said: "I would walk over broken glass to work with him."
Hoffman did not quite return the compliment, saying: "I wouldn't walk over broken glass. Ice cream sundaes I would walk over.
"It's great to work with her, she's unique in the sense that she's the only actor I've ever worked with who doesn't care where the camera is, she turns her back, she's so involved in the scene.
Sandler added: "She is a force and as an actress she is incredibly risk-taking and just as a human being she never plays it safe.
"I've never seen anybody like Emma, she is a strong, funny, great person and makes everybody feel comfortable, and sharp as hell and tells you what she's feeling, she's a 10."
The Meyerowitz Stories (New And Selected) will be available on Netflix on October 13.